Katrina Kaif and Vicky Kaushal's wedding has made news for almost a week now. Now it's her halwa that's making news.
Katrina Kaif cooked a halwa as a ritual. She posted the pic in her Instagram story. She captioned the halwa bowl as Maine Banaya (I cooked) as per a ritual of Chauka Chardhana.
Katrina's husband Vicky Kaushal then posted a bowl of the same halwa and captioned it best ever halwa. They have been on the front pages since their marriage, and now the pic of the halwa has already gone viral.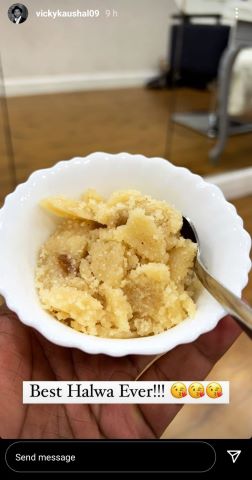 Who would have thought that Katrina would ever cook halwa, and over that, her picture would also go viral. The PDA by both the actors is so cute to see and makes you fall in love with them over and over.
Images Credit: Instagram \ Vicky Kaushal, Katrina Kaif.